· · —
You are standing into danger. This article or section contains spoilers: do you want to go and read the book first?.
The Strong Winds trilogy is a planned series of three children's sailing adventure novels by Julia Jones, partly based on Arthur Ransome's Swallows and Amazons series. The first book, The Salt-Stained Book was published in June 2011.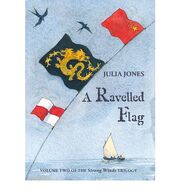 The second book is called A Ravelled Flag ISBN 9781899262052 and was first published in November 2011.
The third book is to be called Ghosting Home and will be published in July 2012
Ad blocker interference detected!
Wikia is a free-to-use site that makes money from advertising. We have a modified experience for viewers using ad blockers

Wikia is not accessible if you've made further modifications. Remove the custom ad blocker rule(s) and the page will load as expected.