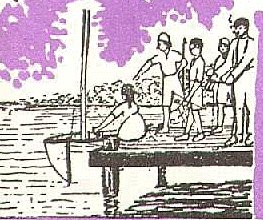 Scarab is a sailing dinghy commissioned by Captain Flint on behalf of Professor Callum and designed to be as similar as possible to Amazon (PM2), though her sail is red not white (PM15). She is thirteen feet long (PM2) and built for the Ds by Rio boatbuilders (PM2). She was loosely based on Ransome's own sailing dinghy Coch-y-bonddhu (NBUS page 174)
Captain and co-owner: Dick Callum
Mate and co-owner: Dorothea Callum
Mrs Callum was looking forward to coming north and being given sailing lessons by the captain and mate of the Scarab, (PM26):
Dorothea was doing awfully well, and the mate ought to handle the ship as well as the captain, (PM27)
Even though Dorothea is the older of the two 'D's', she is not the Captain of Scarab, unlike John and Nancy with Swallow and Amazon.
Ad blocker interference detected!
Wikia is a free-to-use site that makes money from advertising. We have a modified experience for viewers using ad blockers

Wikia is not accessible if you've made further modifications. Remove the custom ad blocker rule(s) and the page will load as expected.