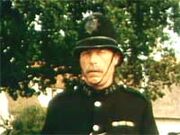 Police Constable Tedder, usually referred to as Mr Tedder is the police constable at Horning, where he lives next to the staithe (a Norfolk term for a quay).
Mt Tedder is a keen gardener, so after the altercation with the Hullabaloos at the Horning Staithe Mrs Barrable changes the subject by discussing gardening with him (CC8). His marrow won the silver prize at an agricultural show (BS10).
Ad blocker interference detected!
Wikia is a free-to-use site that makes money from advertising. We have a modified experience for viewers using ad blockers

Wikia is not accessible if you've made further modifications. Remove the custom ad blocker rule(s) and the page will load as expected.